Annual Pet Adoption Event
The Pierce College Veterinary Technology Program is currently holding its annual pet adoption event to find adoptive homes for the dogs and cats that have been used in veterinary technician student training over the past academic year.
Anyone interested in adopting an animal should contact Debbie Wong, Program Support Supervisor, at 253-964-6708 or by email at DWong@pierce.ctc.edu. All of the animals are spayed or neutered, current on all vaccines, and have ID microchips. There is a $20 adoption fee for each animal.
Individual profiles of the animals available for adoption are listed below. You can also contact Debbie if you have more detailed questions about individual animals or the adoption process itself.
Dogs
Image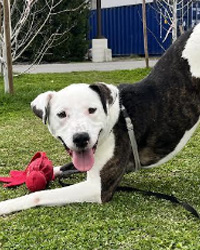 Steve Rogers
Male, 1.5 years old
Hi, my name is Steve and I am just looking for a place to crash. I am a bundle of playful energy in a very handsome and loving package. I LOVE toys so much that I can only have size appropriate toys. I am very good at learning new things, it probably helps that I love treats and am so food motivated. I love to play and have burst of energy so I forget myself when there are small children around. I am a little overwhelming when meeting other dogs and forget all my social skills. I would love to have someone with a active lifestyle like hiking or camping so I can get rid of some of my extra energy.
Image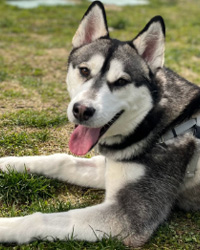 Gwen Stacy
Female, 2 years old
Hi, my name is Gwen! I have lots of energy but I am also a fan of long naps and cuddles. I would do best in a home with a big yard but no girl dogs and no cats, but I would be happy to have a dog brother! I am a fast learner and I am toy and food motivated, I am also crate trained! I walk well on a leash but can use reminders from time to time about leash manners. I also love to sing, and I'm pretty good at it if I do say so myself! Sometimes meeting new people can make me nervous, but after a few minutes I love making new friends. I'd love to meet and play with you!
Image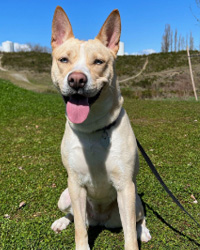 Storm
Female, 3 years old
Hi, my name is Storm! I am a really fast learner so I know a lot of tricks! I am a goofy girl that loves treats, toys, and cuddles. I would do best in a more active home with a yard that I can run, sniff around, and play in! I do well with other boy dogs but would do best without girl dogs.  I do need more practice with my leash manners, but I am so smart that I bet I can get it down quickly! I'd love to meet you and show off my skills!
Cats
Image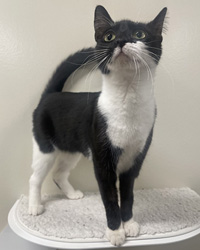 Zelda Fitzgerald
I am an energetic ball of fun that loves to have my own toys that I can chase around. Sprints are my desired zoomie technique so be prepared to race! I will talk to you all day so you never feel alone and will always come up for some head boops.
Image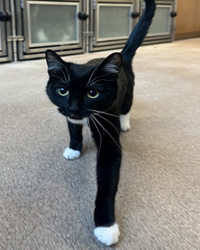 Eleanor Roosevelt
I may be tiny, but I am mighty! I have tons of energy.  I have so much energy, I can't sit still to have my picture taken. I love to play with all kinds of toys. My favorite thing to do is perch up in a high place and watch all the happenings of the world.  Cuddling and head scratches are the way to my heart and I hope my sweet face is the way to yours!