Annual Pet Adoption Event
The Pierce College Veterinary Technology Program is currently holding its annual pet adoption event to find adoptive homes for the dogs and cats that have been used in veterinary technician student training over the past academic year.
Anyone interested in adopting an animal should contact Debbie Wong, Program Support Supervisor, at 253-964-6708 or by email at DWong@pierce.ctc.edu. All of the animals are spayed or neutered, current on all vaccines, and have ID microchips. There is a $20 adoption fee for each animal.
Individual profiles of the animals available for adoption are listed below. You can also contact Debbie if you have more detailed questions about individual animals or the adoption process itself.
Dogs
Image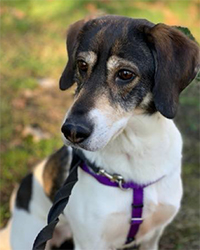 Hermione Granger
Female, 6 years old, tri-color beagle
Hi! I'm Hermione. I'm a such sweet girl and really shy. I don't like other dogs because I want all of the attention to myself. I am also a little anxious around strangers and new environments. I will need someone that will be patient with me until I get comfortable with my new home.
Cats
Image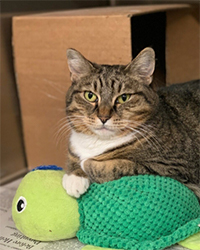 Thanos
Female, 5 years old, tabby, domestic shorthair
Hi, I'm Thanos. I am an introvert and really would like to be the only kitty. I have an emotional support Turtle to keep me company and to cuddle with. I am really sweet even though I can have an angry look. Scratches on my head and behind my ears, please!
Image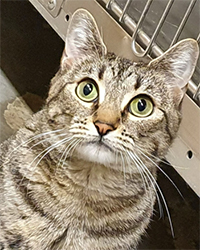 Jazzy
Female, 2 years old, tabby, domestic shorthair
Hi, I'm Jazzy! I enjoy getting scratches behind my ears and being spoiled. I have a lot of energy and want to play all the time. I want my human all to myself so I don't have share you with anyone else.
Image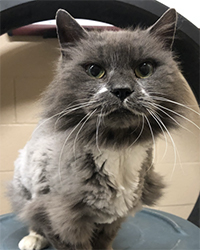 Honker
Male, 5-6 years old, gray and white, domestic longhair
Hello, I'm Honker. I love to be scratched behind my ears and loved on but I don't like to be picked up. Sudden movements are not my cup of tea so please be patient with me. I do like certain feline friends but not all. Children not so much. I don't like to groom my long hair so I may need someone to groom me instead. I included a picture of my awesome new haircut. I am not photogenic but I am very cuddly. If you like a lap cat, then I am your man!