About the Pierce College Residence Hall
Your time outside of class is just as important as your time in class. Studies have shown that students who live in campus housing tend to get more out of their college experience and often earn higher grades.
The Center for Global Scholars (CGS) is traditional campus housing for both domestic and international Pierce College students. CGS values both student independence and a student's need for community. It is a safe residential facility with events/programs and 24/7 assistance that provides opportunities to create meaningful relationships and grow leadership skills that support a student's academic success and personal development.
CGS is conveniently located next to the bus stop and is a 10-minute bus ride from the Pierce College Fort Steilacoom campus. CGS is less than a 5-minute walk from a grocery store, various restaurants, Starbucks, Dollar Store and other convenient local services.
Check us out on Instagram @centerforglobalscholars to see more about your community.
Benefits of Living in Campus Housing
Image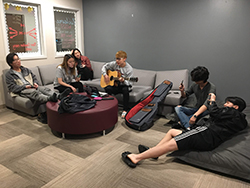 Promotes safety and security while providing independence
Provides easy access to campus and community resources
Opportunity to learn about other cultures and lifestyles, form lifelong friendships, and create lasting memories
Community-based educational and social events and programs
Leadership and cross-cultural opportunities
Research has shown that students who live in campus housing do better academically
Students often highlight their living experience and the leadership opportunities they gained as a result of living at CGS on their university transfer applications and on job applications
Room and Building Description
Image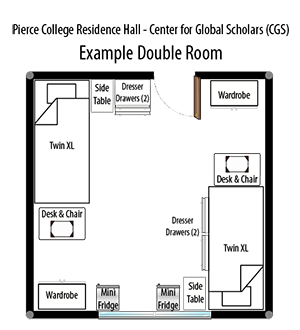 Image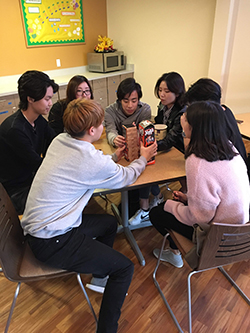 Room Furniture
Twin XL bed (bedding not included)
Nightstand
Wardrobe
Small personal drink refrigerator
Dresser
Desk and chair
Kitchen storage and shared refrigerator space
Building Amenities
Laundry room
Community activities
Community kitchen and dining room
Small personal drink refrigerator
Quiet room
TV lounge
Storage space
On-campus gym membership
Shared use of dishes, pots, pans, etc.
Covered outdoor BBQ and picnic area
Wi-Fi and a wired internet connection
Outdoor courtyards
Bike storage
24/7 staff support
All utilities are included in the room costs.
Room Types and Quarterly Costs
Double rooms are the most common type of room within CGS. There are a limited number of single and triple rooms. All rooms are fully furnished and equipped. A student's specific room type and roommate request will be given when possible, but cannot be guaranteed.
Room Details
Single Room: Limited availability. Average of 121 square feet. No roommate.
Double Room: Most common. Average of 208 square feet. One roommate.
Triple Room: Limited availability. Average of 231 square feet. Two roommates.
Room Costs
 
Single Room
Double Room
Triple Room
Academic Year 2023 - 2024 (Fall, Winter, Spring Quarters) - Subject to change. Costs valid through August 31, 2023.
$2,600 USD per quarter
$2,100 USD per quarter
$1,700 USD per quarter
Summer Quarter 2023
$1,890 USD
$1,575 USD
$1,260 USD
Summer Break (August 24 - September 23, 2023), Winter Break (December 15, 2023 - January 1, 2024) and Spring to Summer Break (June 14 - July 1, 2024)
Email residencelife@pierce.ctc.edu for more information.
Gender-Inclusive Housing
CGS is committed to Pierce College's vision of creating equity, inclusion and positive student experiences by providing students housing options that are inclusive of all gender identities. Gender Inclusive Housing (GIH) is a great option for those for whom their sex assigned at birth does not match their gender identity, those who may be discovering their gender identity, those who do not wish to identify themselves by gender, allies of LGBTQIA+, and students who may feel more comfortable with a roommate of a different gender.  
Students who select this option in campus housing may share a room, hallway and community bathroom with students of any gender, gender identity, gender expression or sex. New and returning students interested in gender-inclusive housing should check the gender-inclusive housing option in the student interest section of the online application. Only applicants who specifically choose gender inclusive housing will be assigned to these spaces. GIH is not intended for students to live with a romantic partner and we strongly discourage this choice for anyone applying to live in the residence hall. 
For questions about gender inclusive housing options or for more information please contact our Housing Team at residencelife@pierce.ctc.edu.
Important Dates to Remember
 
Fall Quarter
Winter Break
Winter Quarter
Spring Quarter
Summer Quarter
Check In
*after 2 p.m., special appt. required
New Residents:
Sept. 23, 2023

10 a.m. to 2 p.m.

Current Residents:
Dec. 15, 2023 - Jan. 1, 2024

Extra charges apply

New Residents:
Jan. 1, 2024

10 a.m. to 2 p.m.

New Residents:
Mar 30, 2024

10 a.m. to 2 p.m.

All Students:
July 1, 2024

By 2 p.m. (or by appt.)

Move Out
Check Out
(appt. required)
Dec. 15, 2023
By 2 p.m.
N/A
March 22, 2024
By 2 p.m.
June 15, 2024
By 2 p.m.
Aug 23, 2024
By 2 p.m.
Housing Agreements
Three-Quarter Housing Agreement Duration
The three-quarter academic agreement automatically renews for the fall, winter, and spring quarters unless notification of cancellation/termination is given by the specified deadlines.
Refer to the housing agreement for cancellation and termination policies and deadlines.
Eligibility
Student is currently or has been accepted as a student into Pierce College and will maintain status as a registered student (6 credits or more) and with good academic standing; or lived in CGS during the previous quarter and have applied to live in college housing for the following quarter. Students who are under academic concern or alert as outlined, may be required to meet regularly with academic support teams to maintain housing status; AND;
Student is 18 years of age; AND
Student has not been previously suspended or dismissed from the college under the student code of conduct, dismissed or evicted from any Pierce College campus housing program for violation of agreement or had filed unlawful detainer action with the campus.
Married students and students with children are not eligible; we recommend applying to apartments in the area.
How to Apply
As soon as you are admitted to Pierce College, you are eligible to complete a residence hall application.
Applications are accepted year round and rooms offered on a space-available basis.
CGS does not require a housing deposit.
A $300 non-refundable application fee is required. Payment of the application fee is the last step in completing a housing application. You may submit your application without the application fee, but the application will not be finalized without the fee.
Domestic students will complete a background check after submitting their application. Pierce College may not automatically or unreasonably deny an applicant's admission or restrict access to campus residency based on an applicant's criminal history in compliance with RCW 28B.160.020 and SB 6582. See the housing agreement for more information on criminal offenses.