Pierce College Theatre Presents
STREETS
Image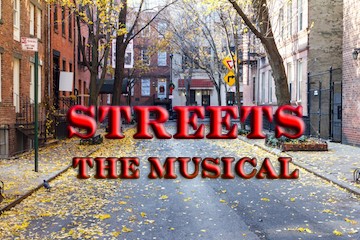 STREETS is an original musical dealing with all things on the street. It will include music, dialogue, singing, and dance.  In addition you are welcome to record and send in your own family stories and community traditions, and reenactments. Grab your phone and record it. Make it a family affair, a neighborhood project, class project, program project, record it and send it in and it will be included. We would like to welcome all students, staff, faculty, and administration. There is room for anyone who wants to participate. No one will be turned away.
Scripted scenes will be rehearsed and produced online using green screen and live street scenes, maintaining social distance.
You may also film your own neighborhood or family stories, and reenactments on your phone. They should be turned in by October 30, 2020.
Auditions for the scripted scenes, singing and dance will be September 23 at 3 p.m. on Zoom. Bring your own audition scene, song and dance for auditions.
Just fill out the Participation and Audition form and follow the submission instructions. An audition appointment will be scheduled, or contact Fred Metzger at: fmetzger@pierce.ctc.edu
You do not need to audition if you only want a small part, but fill out the Participation and Audition form so we can contact you.
The finished recorded project will be available to the public online on November 20, just in time for Thanksgiving!
For questions contact Fred Metzger at fmetzger@pierce.ctc.edu
---
Disability Accommodations
For disability accommodations, contact the college 10 days prior to an event.