Puyallup Health Education Center
This expansive facility emphasizes comprehensive student health and wellness with state of the art fitness equipment, exciting classes, helpful, knowledgeable staff and instructors, and a warm, welcoming atmosphere.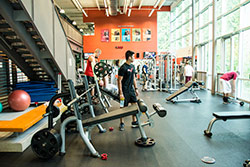 In fact, students have been the heart of the innovative Health Education Center since the very beginning. In 2002, student leaders campaigned on behalf of the center, eventually gaining the student support necessary to successfully institute a design and construction fee to fund the construction. In addition, students contributed more than $1 million in additional funding to purchase equipment, furnishings and technological innovations.
The result of such effort is a student-centered facility that promotes wellness, encourages diversity, and builds community.
Mission Statement
Our focus at the Health Education Center concentrates on wellness and the development of a healthy lifestyle for the entire campus community. The facility provides classroom and individual workout opportunities intended to support a user's journey toward lifelong wellness.
Philosophy
The Health Education Center's foundation is a student-driven philosophy that centers on well-being and a holistic approach that focuses on mind, body and spirit. The center is developed with the intentional work toward health and wellness. A sense of community is fostered that enhances quality of life for users and their families. The department fosters a full learning experience in wellness activities and contributes to the physical, social and intellectual development of all users.