Fort Steilacoom Health Education Center
With its impressive 14,000-square-foot gymnasium, spacious weight and multi-purpose rooms, Health and Wellness Assessment Laboratory, stretching and flexibility area and science classroom, Pierce College Fort Steilacoom's Health Education Center (HEC) is truly a student facility.
Image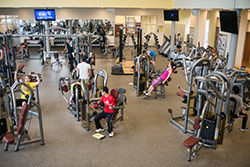 Open since September 2007, the HEC is the product of a longstanding commitment to both health and wellness, and to intercollegiate athletics by the Pierce College students, who paid for the bulk of the $9 million facility with self-levied fees. It is a place where students, staff and community members alike, regardless of their workout or strength training experience, come to improve and inform themselves in a welcoming, knowledgeable and helpful environment.
Novice or expert, both benefit from the impressive array of Matrix fitness equipment. The cardiovascular center houses more than 20 pieces of equipment, ranging from recumbent bicycles to cutting edge ascent trainers, which combine the benefits of traditional elliptical and stair climbing machines. Mobility-impaired visitors may also enjoy the Scifit upper body conditioning machine.
Anyone new to fitness or simply looking for a new routine or motivation can utilize the expertise of the HEC's fitness professionals to develop a personalized training program to help achieve any goal. In the state-of-the-art Health and Wellness Assessment Lab, such key health factors as body composition and aerobic capacity can be measured on-site using the hydrostatic weighing tank and open circuit indirect calorimetry metabolic cart. Results from these tests can then help HEC fitness pros outline the safest and most effective routine for each individual.
Image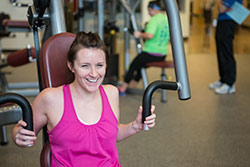 In addition, those looking for a non-traditional workout can sign up for any of the available Pilates, yoga, body conditioning, or kickboxing classes.
And, for sports fans, the time is always right for basketball or volleyball in the HEC's expansive gymnasium. The home court for the Pierce College women's basketball and volleyball teams and the men's basketball team, the HEC gym can accommodate up to three volleyball courts or two full basketball courts, so starting or joining a pickup game is almost always possible.
For more information, including details on how to rent the HEC for special events, call Doug Carlson, Operations Manager, at 253-964-6626.