Social Media Marketing Certificate
The Pierce College Social Media Marketing Certificate is a fully online, comprehensive training program designed to help students gain the knowledge, skills and abilities employers are looking for in online marketing specialists. This certificate program features portfolio- and competency-based curriculum, many open-source materials, a capstone project and more. This expert-guided certificate program can be completed in approximately one year.
Image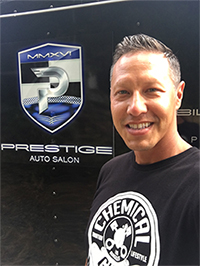 Deciding to enroll at Pierce College has been the best decision I have made in regard to starting my business successfully. I was about to start advertising and taking on customers with just the skills of detailing cars but thought I would take just a few classes first to improve my odds of getting a business loan.
Once I was enrolled, I realized how beneficial every class was in teaching me how to achieve customers, take on employees, and ultimately expand in the future.
I am far more confidant now in every aspect of my business and look for opportunities to share what I have learned with other small business owners.
— Gordon Boskofsky, Owner, Prestige Auto Salon
What You Will Learn
Appropriately respond to social media needs to maintain credibility of the online presence of a business or organization (BUS 134; BUS 135; MNGT 136; MNGT 137; MNGT 139; MNGT 141).
Appropriately manage digital information and messaging for a business or organization (MNGT 134; MNGT 139).
Effectively support an organization's social media marketing content and digital information based on the needs of the audience and the organization (MNGT 134; MNGT 136; MNGT 137; MNGT 141).
Use appropriate ethical, legal and copyright laws and practices to address issues related to digital information and social media content (BUS 134; BUS 135; MNGT 137; MNGT 139).
Demonstrate multiple media literacies and skills through use of software and web applications to create digital content and social media content (BUS 134; MNGT 139; MNGT 141).
Design and present an online portfolio that showcases social media marketing skills and practices (BUS 134; MNGT 139; MNGT 141).
Demonstrate awareness of the breadth and depth of employment options in the fields of social media marketing and digital content management (BUS 134; BUS 135; MNGT 139).
Contact Us
Taryn Givenchy
Associate Professor
Dr. Paul L. Gerhardt
PhD Coordinator
53-964-6429
pgerhardt@pierce.ctc.edu