Board Members
Pierce College's policy-making body is a five-member board of trustees appointed by the governor to five-year terms. Members are citizens living within the college's service area.
Steve Smith, Chair
Image

Mr. Steve Smith appointed September 2012 and reappointed to a second term in September 2017. He has a BA in Psychology and an MA in Guidance and Counseling both from Pacific Lutheran University. He currently serves as the executive director of the Black Education Strategy Roundtable. He is Senior Fellow Class Xlll in the American Leadership Forum. He serves on many community boards such as the Rotary Club of Tacoma #8,Tacoma-Pierce County Black Collective, University Place Planning Commission, and he is a member of Franciscan Foundation, Tacoma Community House and MESA Board of Directors. Steve resides in University Place and has three sons.
Brett Willis, Vice Chair
Image

Brett Willis appointed October 2013 and reappointed to a second term in October 2018. He has an AA in Chemistry from Green River Community College, a BA in Chemistry from Pacific Lutheran University, did post-graduate work in Accounting at the University of Washington, and is a Pacific Coast Banking School Graduate. Brett serves as a senior vice president and team leader at Heritage Bank of Washington in downtown Tacoma. Brett is active in civic organizations, a member of Greater Tacoma Foundation, and is active at the Tacoma Art Museum. Brett and his wife Constance Picha live in Puyallup and have two adult children and their spouses, two grandchildren, and their dachshund Tucker. 
Angie Condon
Image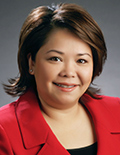 Angie Condon joined the board in 2011 and reappointed a second term in 2015. Angie has a bachelor's degree in communications management from the University of Portland. She serves as a program coordinator for the Institution for Veterans and Military Families at Syracuse University. She is active in her community and a member of many professional and civic organizations, including the Lakewood and Steilacoom Chamber of Commerce, Filipino Community Alliance, Employer Advisory Board, and Center for Career Alternatives and Lakewood Communities in School. She is the past chair of the St. Francis Cabrini School Commission. Angie and her husband Jim live in Lakewood and she has one daughter.
Kristin Ray
Image

Kristin Ray joined the board in 2019. As a military spouse and educator for 21 years, Ray has taught in six states, including six years with Department of Defense schools. Throughout her career, Ray has served as an administrator, educator, speaker, consultant, team leader and liaison, working to create positive learning environments, teaching and empowering other educators and inspiring the next generation to succeed. She has served as the Senior Advisor for the 1st Special Forces Group Family Programs on Joint Base Lewis-McChord. Ray currently serves as the Early Learning Coordinator for the Bethel School District. 
Amadeo Tiam
Image

Amadeo joined the board in 2010 and reappointed to a second term in 2016. He received his Bachelor of Arts in classic philosophy from the University of Santo Tomas Manila, Philippines, and his Master of Arts in guidance and counseling from Pacific Lutheran University. Before retiring, he served as the executive director of the South Puget Intertribal Planning Agency, a consortium of five federally recognized Indian Tribal Governments that provide planning, grant administration and health, educational, and social services. He serves on Tiam-Tumaliuan Foundation domiciled in the Philippines. Amadeo and his wife Susan reside in Puyallup and have two adult children.
Chancellor and Presidents
Michele L. Johnson, Ph.D. is the chancellor and CEO of Pierce College District 11.
Julie A. White, Ph.D. is the president of Pierce College Fort Steilacoom.
Darrell L. Cain, Ph.D. is the president of Pierce College Puyallup.