Book a Writing Consultation
Book Online
You can now book a writing consultation, using our new booking system, right from this website. This makes it much easier for you to pre-plan and decide when you want to come into the Writing Center.
Create an Account
If you have not yet registered for an account on our new system, you will need to do that the first time you log in. Register for a new account now or click Register for a new account on the login page and use your Pierce College email address (you@smail.pcd.edu) or other preferred email address and a secure password you will remember. Once you are in our new system, you will be able to easily book a consultation by doing the following steps:
Make sure you choose the right schedule for your on campus or online preference.
Click on an open time slot (a white square) on the schedule.
When the pop-up window opens, choose the length of consultation, 30 or 60 minutes, answer the other questions, upload the assignment instructions and your draft if you have one, and save the appointment. You should get an email notifying you of the appointment. You will also now see your new appointment in yellow on the schedule.
Image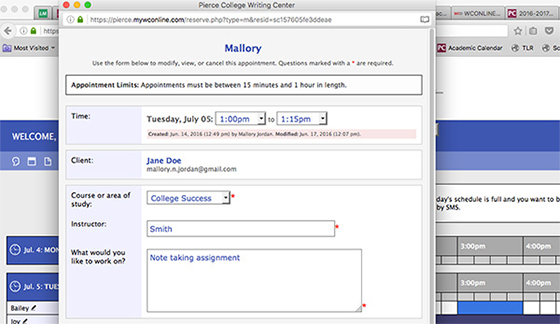 Change or Cancel an Appointment Online
You can also change or cancel an appointment online by clicking on your yellow appointment slot and changing or canceling the time. Make sure you check the schedule first to make sure that your new time preference is available. If canceling an appointment, make sure you do it at least two hours before it is supposed to start so that it is not counted as a no-show. See our Terms of Service page for more information about our attendance and cancellation policies.
Book by Phone or in Person
You can also book a writing consultation by either calling the Writing Center at either campus, or by dropping by and asking a writing tutor to book one for you.
If you just want a short drop-in appointment, you can come into the Writing Center and put your name down in a particular time slot on our daily drop-in sheet. You can then either wait for your time in the Writing Center or come back later in the day when you have booked the drop-in.