Business Cards
Requests for business cards are taken at any time using the business card request form.
Please complete the form electronically, then email it to Tina McGregor at cmcgregor@pierce.ctc.edu.
Physical copies are not necessary. However, if you are not able to email a signed form, please notify Tina at the email address above and return two signed copies of this form to:
Marketing and Communications
Portable
Pierce College Puyallup
Costs for business cards are the responsibility of the requesting division or department. Prices are as follows (shipping included):
250 - $39.00 (plus sales tax)
500 - $59.00 (plus sales tax)
750 - $78.98 (plus sales tax)
1,000 - $99.00 (plus sales tax)
When completing the "Chartstring" section of the request form, please use the "Account – Operating Unit – Fund – Class – Account" budget chartstring format.
Cards are ordered through the Department of Enterprise Services in Olympia and are processed in about 10 working days after receiving your order.
*All standard business cards include the Pierce College mission statement on the back.
Sample Business Card (front and back)
Image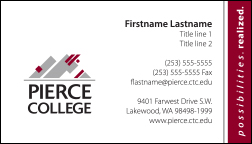 Image